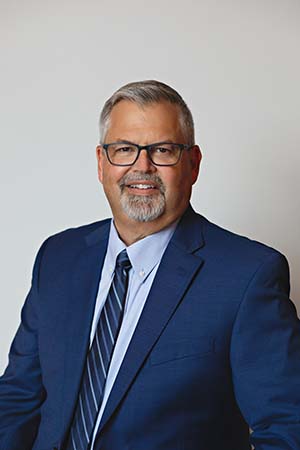 Commissioner Jeff Fix was elected to the Commission in 2018. Born in Milwaukee, Wisconsin; Jeff grew up primarily in North Columbus and graduated from St. Francis DeSales High School before obtaining a Bachelor of Science degree from Bowling Green State University.

Beginning at age 16, Jeff has spent almost his entire professional career in the restaurant industry, providing him the opportunity to travel throughout North America. Today, Jeff works for RDP Foodservice as the Director of Multi-Unit Business Development.

Jeff moved his young family to Pickerington in 1996 and coached his children (Jessie and Tanner) in soccer, softball, football, baseball, and basketball; and cheered Jessie through track and Marching Band at Pickerington North. Jeff was a founding member of both the Pickerington Predators and Columbus Trappers travel baseball organizations, both of which continue today and have provided thousands of young men (and a few young women) the opportunity to play competitive baseball throughout the Midwest.

Jeff was elected to Pickerington City Council in 2005; and re-elected in 2009, 2013, and 2017. He served 5 terms as Council President and had the opportunity to Chair all Committees during his tenure.

Elected to the Fairfield County Republican Party Central Committee in 2004; Jeff joined the Executive Committee as Secretary in 2006; becoming Central Committee Chair in 2014; and Chairman of the Party in 2016.

In addition, Jeff continues to serve on the Board of Directors for the Ohio Restaurant Association, Tyler's Light, Fairfield County Opiate Task Force, and the Mercator Club of Columbus.

Jeff continues to reside in Pickerington providing a home base for Jessie and Tanner.