Welcome to the Fairfield County Commissioners' Office, Lancaster, Ohio
Board of Commissioners
FAIRFIELD COUNTY, OHIO
Elected Commissioners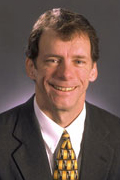 Steve Davis
Fairfield County
Commissioner
David L. Levacy
Fairfield County
Commissioner
Mike Kiger
Fairfield County
Commissioner
Commissioner Mike Kiger is serving his Fourth term as a Fairfield County Commissioner. Mike graduated from Lancaster High Schoolís Vocational Machine shop in 1969. A U.S. Army veteran, Mike served from 1971-1972, receiving Basic training at Ft. Knox, KY, serving his remaining enlistment at Ft. Eustis, VA, his MOS was 44K20, Marine Hull Repair. Mike joined the Lancaster Fire Department in 1973 and graduated as Paramedic in the first such class offered in Lancaster in 1975. In 1981, he was promoted to Lieutenant and in 1984 achieved the rank of Captain. Mikeís career in the Fire Service was cut short by a tractor accident in 1986 that left him a C5-6 Quadriplegic and wheelchair dependent. Following his rehabilitation, Mike retrained and from 1988-1996, worked as a Medical Equipment salesman. His personal knowledge of wheelchairs and his empathy with his customers made Mike a highly successful salesman.

Mike has served on the Fairfield County Council for Disabled and the Governorís Council on Independent Living. Mike is a member of Lancaster Rotary, Local 291R, Ohio Association of Professional Firefighters Retirees, the Lancaster/Fairfield and Pickerington Chambers of Commerce and Lifetime AMVETS member.

Commissioner Kiger serves on the following committees: Planning Chairman, Board of Community Action; Board of Directors for CFLP Solid Waste District; the Fairfield County Records Retention Committee; CCAO Public Safety and Criminal Justice Committee; Liaison between Fairfield County Commission and Fairfield County Airport Authority Board; Fairfield County Hot Zone Committee on Public Safety; the Multi-County Juvenile Detention Center Board of Trustees, and the Multi-County Juvenile Detention Center Board of Directors.

Mike currently resides with his wife, Alma, in Greenfield Township. Mike has two daughters, Rachel Carpenter and Micki ReZentes. Rachel, a nurse at Fairfield Medical Center, resides in Fairfield County with her husband, Rodney. Micki and her husband, Rich, reside in North Carolina. Mike has five grandsons and four granddaughters.